Ferienhaus Tõnise/Kleines Haus, Lääne-Saare, Saaremaa, Estland
Ferienhaus in Estland mieten!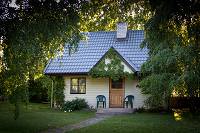 We are open to the tourists since 2004 and we are welcoming you all year long. We offer a service to our guests in Estonian, Russian, English and Finnish languages. The smaller house is suitable for 6 people. One can relax here in a reviving wood heated sauna and enjoy the heat of an open fireplace. The kitchen corner has everything needed (dishes, a stove, a coffee maker, a toaster), there is a fridge, a TV, a radio and a microwave in the fireplace room. The bed sheets and the towels are included in the price. One could sit on the arbour and enjoy the magic moments with fiddling grasshoppers and the fish playing in the pond. There is a possibility to barbeque. See also: http://www.ferienhaus.ee/estland/kohde.asp?cat=473...